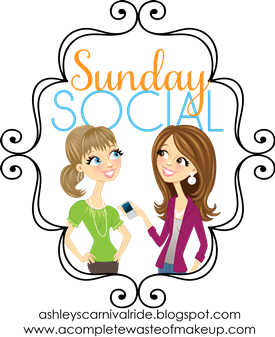 I couldn't pass up this weeks Sunday Social!
1. What was your first car?
My parents old 1998 Honda Accord. I still drive it! It's been a good car but I am looking forward to getting a newer, bigger car sometime (hopefully soon)!
2. Who was your favorite childhood teacher?
The first one that comes to mind is Mr. Stevens from my middle school. He was my math teacher, which is surprising because I always hated math. But his class was fun. He was young and cool. He was obsessed with Michael Jordan shoes (he wore them every day), Fantastic Four (he circled every number four in the classroom and on our assignments), and we competed in little golf and basketball games to get prizes in his classroom. His class was one I looked forward to, which is good because normally I would hate math class!
3. Were you involved in any sports/extracurricular activities? Share pictures if you can!
Yes! I did a lot of things. Piano lessons, ballet, tap, but the main one was soccer!
Please excuse these old pictures of pictures!
4. What was your favorite birthday party?
Psh, we didn't really have many birthday parties. Christmas was where it was at!! If you can't tell, I am screaming from the excitement of my LiteBrite. :)
5. Who was your teen celebrity crush?
I didn't really crush on celebrities as a teen (I crushed on in person boys instead). But as a kid, I LOVED Jonathan Taylor Thomas. Like, kissed my Simba notebook type of love. One time at a sleepover, I serenaded my friends by singing a "song" about him (which was pretty much just repeating his name over and over)! To this day, they still make fun of me for that!! :)
6. What show/movie did your parents not allow you to watch?
We were never allowed to watch The Simpsons! My brothers always tried to sneak it on and sometimes my parents wouldn't notice for a few minutes. Lol.