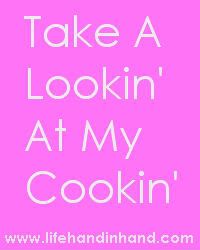 This is a great way to exchange recipes. It's all about food: Main courses, appetizers, desserts, etc. Whatever you feel like sharing! Who doesn't love food, am I right?!
All you need is the code that is in my sidebar, link up with your recipe and maybe a picture of the results!
If you don't cook, feel free to link up with things you wish to cook in the future!
Wild Rice and Chicken
2 cans (10.75 ounces each) cream of chicken soup, condensed

2 cups water

2 boxes (4.3 ounces each) seasoned long-grain and wild rice, with seasoning packets

4 boneless, skinless chicken breasts
Combine soup, water, rice, and seasoning packets. (Do not cook this in a slow cooker smaller than 3 1/2 quarts- rice expands.) Pour half of rice mixture into greased slow cooker. Lay chicken on top of rice. Pour remaining rice mixture over chicken. Cover and cook on low heat 6-7 hours or on high 3-4 hours. Do not overcook or rice will become mushy. Makes 4-6 servings.