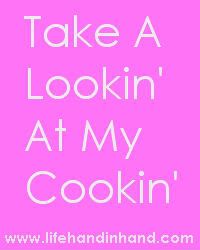 This is a great way to exchange recipes. It's all about food: Main courses, appetizers, desserts, etc. Whatever you feel like sharing! Who doesn't love food, am I right?!
All you need is the code that is in my sidebar, link up with your recipe and maybe a picture of the results!
If you don't cook, feel free to link up with things you wish to cook in the future!
*****
Shredded chicken burritos/tacos.
Ever since my friend Wendy taught me how to make this, it's been one of my go-to dinners. My friend Kaitlin requests them whenever she comes to visit.
Chicken: Throw about six boneless, skinless chicken breasts in a crockpot. In a separate bowl/cup, mix together about a cup or two of water with a packet of taco seasoning. Pour over chicken. Set on high for 3-4 hours (or until chicken shreds easily). You could probably set it on low for about 6-8 hours too but I'm not that patient most of the time. ;)
I love to make guacomole (mash up avocado and add garlic salt and lime juice) to have on the burrito. I also like having tomatoes, spinach, sour cream, shredded cheddar cheese, etc. I like the works!
It makes for a great meal. You could serve it with rice and beans on the side but I usually fill up on this alone. Enjoy!
Don't forget to link up!