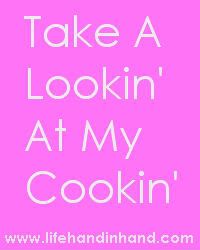 This is no longer a linkup. I'm still posting them and you can do it too if you want (with the button from my sidebar in your post) but the linkup wasn't working out so well! I'm bummed but I'm kind of gathering my fave recipes one at a time by doing this and there is a page at the top of my blog with the recipes I have posted so far.

*****

Grandma's Sweet Potatoes

These sweet potatoes have always been a favorite of mine for the holidays. I've always loved having them for Thanksgiving and Christmas and when I came across the recipe for them, I decided to try to make them myself. It looked easy (and it was)!
1/2 stick margarine or butter

2 cans sweet potatoes (large)

1/2 cup sugar

1/4- 1/2 cup orange juice (more is better)

1/2 tsp nutmeg

1/2 tsp cinnamon

1 egg

marshmallows
Warm potatoes in own juice, drain. Whip with all other igredients. Bake 20 minutes at 375 degrees. Top with marshmallows and bake an additional 10 minutes.
I may have added too many marshmallows...and they sunk in right after these pictures. It was delicious, just like my mom makes them! It just felt a little wrong to eat them on a normal day. I think I need to wait for the holidays to eat them!