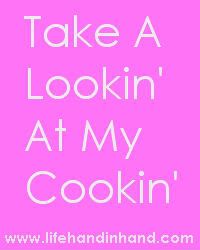 Cheesy Chicken
4-6 Boneless, skinless chicken breasts

2 cans (10.75 ounces each) cream of chicken soup, condensed

1 can (10.75 ounces) cheddar cheese soup, condensed

1 teaspoon of dried rosemary or dill
Place chicken in greased slow cooker. In a bowl, combine remaining ingredients and pour over chicken. Cover and cook on low heat 6-8 hours or on high heat 3-4 hours. Makes 8-10 servings.
Serve over hot cooked noodles or rice with a side of steamed vegetables.
As you can see, I chose to have it with rice and plenty of sauce and chicken on top. Delish!
Tip: Throw in some broccoli toward the end of the cooking time for extra nutrition and flavor!
Don't forget to link up below!