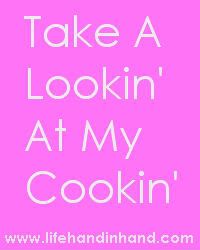 Welcome to the first Take A Lookin' At My Cookin' linkup!
This is a great way to exchange recipes. It's all about food: Main courses, appetizers, desserts, etc. Whatever you feel like sharing! Who doesn't love food, am I right?!

All you need is the code that is in my sidebar and link up with your recipe and maybe a picture of the results!
If you don't cook, feel free to link up with things you wish to cook in the future!

****
This week I am sharing a recipe for banana bread. It is so delicious! I bought more bananas just so I could make it again this week. Usually I have to add applesauce to make it moist enough but this recipe was great even without it.
3 or 4 ripe bananas, smashed

1/3 cup melted butter

1 cup sugar (I only used 3/4 cup)

1 egg, beaten

1 teaspoon vanilla

1 teaspoon baking soda

Pinch of salt

1 1/2 cups of all-purpose flour

Preheat the oven to 350°F (175°C). With a wooden spoon, mix butter into the mashed bananas in a large mixing bowl. Mix in the sugar, egg, and vanilla. Sprinkle the baking soda and salt over the mixture and mix in. Add the flour last, mix. Pour mixture into a buttered 4x8 inch loaf pan. Bake for 1 hour. Cool on a rack. Remove from pan and slice to serve.
Don't forget to link up!